Chalk paint is an interesting type of paint popular for painting furniture.
The paint works on any surface, including metal, concrete, stone, and many others.
What is more intriguing is that manufacturers promote this as outdoor paint. So, is chalk paint waterproof?
Waterproof and water-resistant paints are two different things. Chalk paint belongs to the latter. It is capable of resisting water, but it is not entirely waterproof.
Although makers of chalk paint like Annie Sloan suggest that you can use it to paint your outdoor furniture, you might still need to seal it.
Chalk paint formula can assure you that your paint will not wash off when it rains. It includes an ingredient that can effectively resist water.
Thus, it will last longer if the water does not stay on the painted object.
This paint can be ideal if you paint vertical objects like your fence, even without a sealer.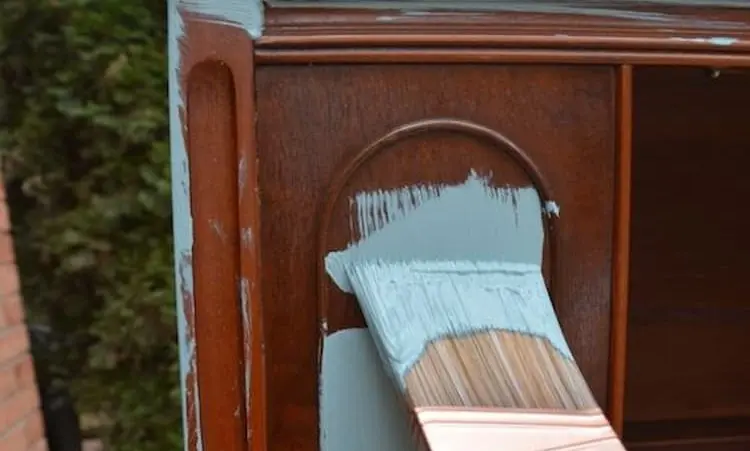 Is Chalk Paint Waterproof?
Before I elaborate on whether chalk paint is waterproof, I will first discuss how it surfaced in the market.
Annie Sloan discovered chalk paint back in 1990. Since then, the paint has become popular due to its distinct matte finish. The antique-like look of chalk paint finish makes it a go-to paint for furniture makers.
Over the years, the use of chalk paint is not only limited to painting furniture. It has evolved as paint for walls, ceilings, and surfaces.
The paint now also comes in many variations. Aside from Annie Sloan (the company named after the founder), other companies have also produced paints with a chalk-like effect.
Now, back to the question of whether chalk paint is waterproof. I will cut it short for you: chalk paint is not waterproof.
It has good water resistance capability but is still vulnerable to water. You cannot paint something with chalk paint and soak it in water.
Frequent or regular exposure of the paint to water can cause issues. It does not work like waterproof marine paints.
Therefore, if you plan to use this type of paint, you need to consider the object's possible exposure to water.
Painting a bench may require a paint sealer to prolong the paint's life, as the rainwater may take some time to evaporate.
On the other hand, if the surface you are painting does not hold water, or if you are painting vertical or standing objects like your fence, you might not need additional coating.
The chalk paint could be enough, especially when you do two coats.
Will Chalk Paint Wash off in the Rain?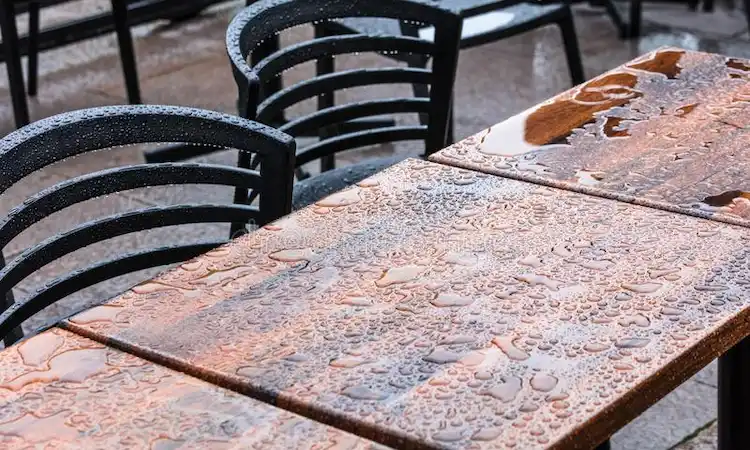 One of the many great characteristics of chalk paint is being water-resistant.
This special quality allows the paint to stick to the painted surface without getting washed off when it rains.
However, improper preparation of the surface and application of the paint may cause some issues.
There are a few things to consider when using chalk paint. This article from Annie Sloan's website features these Dos and Don'ts.
I will highlight that you should remove old paint from the object you are painting. Failure to do this step will result in peeling.
Cleaning the old paint is the key achieve a good chalk paint performance. Sanding the surface is not required at all.
When painting garden furniture, benches, fence, etc., it is best to cover chalk paint with a lacquer coat for additional protection.
You expose the paint to water every time you water your garden plants. Over time, chalk paint can deteriorate faster without additional protective coating.
Before you start your painting job, do check the weather forecast. You need to ensure the paint fully cures. If you start painting and suddenly it rains, the rain will likely wash the paint off.
Also, paint in the morning so the paint will have more time to dry. Painting very late in the day may cause the paint not to cure properly.
How to Make Chalk Paint Waterproof?
You now know that chalk paint is only water-resistant, so it makes perfect sense to do something to make it waterproof.
Waterproofing your chalk paint ensures it does not easily deteriorate with water and other weather elements. But how can you make chalk paint waterproof?
There are five ways to make chalk paint waterproof. These include using a clear acrylic coat, wax, lacquer paint, varnish, and polyurethane. Discover how these methods work below.
Acrylic Paint Coating
There is no doubt that you can use acrylic paint for about anything. It works well on various surfaces. You can paint acrylic on fabric, wood, metal, concrete, leather, and canvas.
With this reputation, it is no surprise that a clear acrylic coat will work in making chalk paint waterproof.
Using acrylic sealant is ideal for providing additional protection to your outdoor furniture.
Therefore, go with this waterproofing solution if you plan to use chalk paint outdoors. Acrylic paint coating should extend the life span of your chalk paint and furniture.
The acrylic coating prevents the water from penetrating the chalk paint to make it last longer. It effectively blocks moisture.
Yes, it will make the paint last longer because acrylic sealants protect your paint for 5 to 8 years. That is extra life, indeed!
Wax Paint
Paint wax is another way to seal your chalk paint. Chalk paint manufacturers, particularly Annie Sloan, also produce wax that you can use to make the chalk paint waterproof.
Like clear acrylic coating, was also protects the chalk paint from water and moisture.
If you paint furniture that you frequently put coffee mugs, or anything wet, waxing can help you prolong the life of the chalk paint.
However, the wax paint is not ideal for use outdoors. Its formula is not strong enough to combat weather elements like rain, ultraviolet, snow, etc.
Lacquer Paints
Lacquer paint is also a suggested option to make your chalk paint waterproof. You might think that lacquer paints are the same as clear acrylic coats, but they are not.
The original maker of chalk paint also sells lacquer paint. Annie Sloan suggests applying lacquer over chalk paint, especially when painting outdoor surfaces.
Varnish
Varnish is a common sealant for wood furniture. Some furniture makers even directly apply varnish over the clean wood.
But that would look boring. Chalk paint is a simple way to add life and character to your furniture. Can you use varnish as waterproofing for the chalk paint?
Yes, you may use clear varnish to cover your chalk paint should you decide to use it on your furniture. According to experts, varnish can last for 3 to 5 years.
I can say it lasts more than that. The old chair my grandpa still stands in the corner of our house now, and it still looks fresh.
Polyurethane
You probably heard some people have used polyurethane as a sealant for chalk paint. It may provide additional protection for sure.
However, its efficacy is still not well-proven. I would suggest the acrylic sealant because I've used it for my small projects, and it works well.
However, you can explore this option if you wish. Since some people use it as additional protection or a chalk paint waterproofing solution, it may work.
You can read this resource to learn more about polyurethane application.
How Will Long Chalk Paint Last Outside?
Chalk paint's life span is at par with other paints. Because of its water resistance capability, the paint can last as long as 8 to 10 years.
That is the same life span as latex paints. Sealing the paint with a clear coat of acrylic paint can even extend the life of chalk paint.
Paint sealers also have their life span. Applying them over chalk paint can extend the chalk paint's life for another 3 to 5 years.
It also helps preserve the chalk paint if you re-seal regularly every three years. That is just another method to keep the paint intact for longer.
If you wonder how long the chalk paint would last after opening the can, the answer is: It depends! It depends on how you keep your remaining paint.
Paints are generally still useful after a year or two of opening the container. Some paints even still last longer than that.
The paint may become viscous over time, but you can thin it again for easy application.
Is Annie Sloan Chalk Paint Waterproof?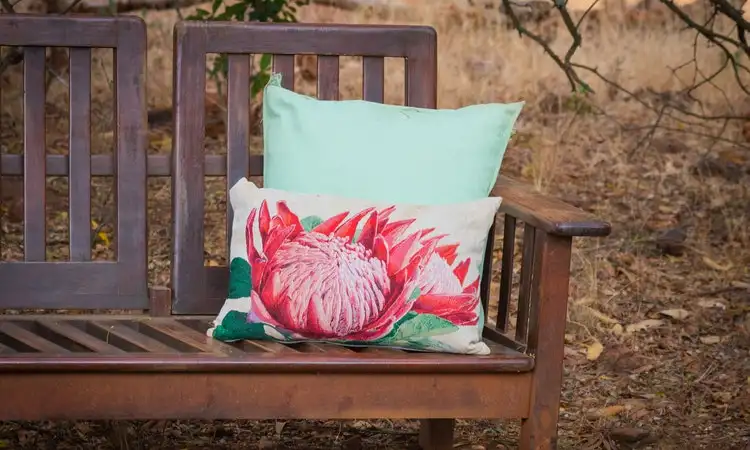 Like other chalk-style paints, Annie Sloan chalk paint products are not waterproof.
They have water-resistance capability, but they are not necessarily waterproof.
The company that produces the paint also makes wax and lacquer paints that serve as water sealants for the chalk paint.
Annie Sloan chalk paint can be more effective considering that the company first discovered it. However, it could not stand alone.
It needs the help of other products (sealants) to ensure longer life. Sealing Annie Sloan chalk paint with acrylic clear coat or lacquer paint can be necessary if you are painting outdoor surfaces.
What Type of Paint is Waterproof?
Paints are generally water-resistant when they dry. It doesn't matter if it is acrylic, latex, or chalk.
However, different types of paint can possess different abilities. The formula may differ depending on the intended purpose of the paint.
If you want to use waterproof paint, there are a few options. These include masonry paint, epoxy paint, and acrolein elasticized paint.
You can also consider using regular paint and coating it with paint sealers to make it waterproof.
Masonry Paint
You can use masonry paint to cover your concrete, bricks, or other surfaces.
This paint is highly waterproof because it contains ceramic material and latex that prevent water absorption. Additionally, this paint protects your surface from mildew.
Homeowners commonly use this paint for their roofs. Other people also use masonry paint for painting furniture to provide additional wood protection.
You can read this article if you want to know further about the other uses of masonry paint.
Epoxy Paint
Epoxy paint is another type of waterproof paint. It can be a little expensive, but the protection it brings is astounding.
This paint is suitable for almost all surfaces. If you are painting wood furniture, epoxy paint is a good choice.
Epoxy paint is also ideal for roofing protection. It helps prevent the water from leaking into the roof. Moreover, epoxy paint is a popular flooring solution.
It is ideal for painting driveways and garages because it is more than waterproof. It is also scratch and impact resistant.
Related Read: How Long Does Epoxy Paint Take to Dry?
Acrolein Elasticized Paint
Another waterproof paint is acrolein elasticized paint. Besides being waterproof, the paint is also highly resistant to mildew and other weather elements.
This paint is very suitable for painting concrete surfaces like walls and benches.
Most people who use acrolein elasticized paint combine it with acrylic paint for better results. This paint is a good waterproofing solution.
However, this paint is highly toxic. It contains many VOCs that are hazardous to human health and the environment.
3 Best Waterproof Paints to Use on Outdoor Surfaces

This paint formula is effective for both indoor and outdoor waterproofing.
Although this is traditionally for concrete foundations and basement sealing, you can also use it to paint your outdoor furniture and other surfaces.
This highly flexible paint ensures that water cannot get to the surface.
The paint is also human and environment-friendly as it does not contain harmful VOCs.
Additionally, the paint is easy to apply; you do not need to mix it further. You can use a paintbrush, roller, and even a paint sprayer.
Those who tried using this paint are so far happy with how the paint prevents water and moisture. There are a few negative comments about this product, but they are related to item handling and order particulars.
The complaints got nothing to do with the paint's performance.
Pros
It is water-based
It is easy to apply
It doesn't contain many VOCs and other hazardous chemicals
You can use it on various surfaces, from concrete to wood
Dries quickly
Cons

Rust-Oleum is a popular name in the paint industry. Its products cover almost every area for painting.
It has paint for wood, concrete floors, metal, and many more. As far as quality is concerned, the company has built a reputation over the years of service.
The Rust-Oleum 206999 Marine Topside Paint is one of its best offers. The main purpose or use of the paint is for marine painting.
It is highly waterproof, UV resistant, and resistant to extreme weather conditions. These qualities make the paint also ideal for painting outdoor surfaces, especially if you live by the shoreline.
Furthermore, the paint is highly durable and effectively resists abrasion.
It also dries quickly, so you will not worry so much about the paint getting washed off when it rains a couple of hours after applying it.
One user shared that he used the paint on his countertops and was surprised about how it turned out so well. Some users also used the paint on outdoor furniture and patios.
All of them express their satisfaction with the paint's performance. However, most of those who tried the paint warned about the strong smell.
Pros
Produces a very durable protective coating
Highly waterproof
Resist ultraviolet and extreme weather elements
Worth the price
Cons
Non-scratchproof
Smells strong

Price is the first we check when we purchase things. Well, at least for me.
If you are a bit tight with your budget, the Gorilla Waterproof Patch & Seal Liquid, Clear, 16 Ounces is a good option. This paint is ideal for small projects.
This paint effectively seals water and moisture, making it ideal for painting outdoor surfaces.
It is highly flexible because it is rubberized. The paint is also easy to apply with a brush, roller, and trowel. Plus, it is highly resistant to sunlight.
You can use the Gorilla Waterproof Patch & Seal Liquid clear coat for various purposes surfaces, including roofs, gutters, PVC pipes, and other DIY projects.
One review on Amazon claims that the paint easily peels. This review can be subjective as surface preparation is also important.
Pros
Easy to apply
UV resistant
Suitable for many projects
Highly flexible
Cons
It can peel easily if the surface preparation is poor
Conclusion
Chalk paint cannot stand frequent exposure to water. It possesses water-resistant capabilities but requires additional protective coating to make it more waterproof.
There are several options to make chalk paint waterproof, including clear acrylic coating, lacquer paint, paint wax, and varnish.
You don't need to sand the surface when you use chalk paint. That is one of its unique characteristics.
However, to ensure that the paint will adhere well to the object, it is highly recommended that you clean the surface.
If you are doing a re-painting job, ensure to remove the old paint. Otherwise, the paint may not last long or may peel off prematurely.